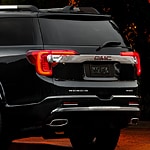 Automatic emergency braking (AEB) is an optional feature that helps the 2023 GMC Acadia driver avoid or mitigate a collision with a vehicle or other object. It can detect pedestrians, cyclists, large animals and vehicles up to 300 feet away. If necessary, AEB can apply the brakes if needed. The system can be turned off by the driver.
Safe exit assist with a key fob is available on all Acadias. Safe exit assist allows you to get out of the vehicle without having to hold or use your keys, which makes it easier for drivers who have limited mobility or difficulty getting in and out of a vehicle. The system automatically opens the door when you approach the Acadia and then closes it behind you when you are ready to leave.
Automatic emergency braking will automatically apply the brakes for you in case something unusual is imminent, such as a crash. Lane departure warning alerts you with a vibration in the steering wheel or seat if you drift out of your lane without signaling, so you can correct yourself before getting in an accident.