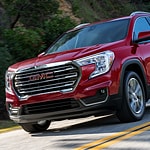 There are several outstanding utility features that make the 2022 GMC Terrain a separate beast of its own.
The first feature that sets this vehicle aside from others is fuel economy. The 2022 GMC Terrain is expected to get drivers 25 miles to the gallon on the highway and 28 miles to the gallon in the city, which is better than what drivers would get from most small-sized vehicles. Here at Gulf Coast Chevrolet Buick GMC we only sell vehicles that make customers happy.
Another feature is the engine. The engine is only 1.5L, so it won't take that much money to fill up the tank, but the engine is capable of producing nearly 225 horsepower. The small engine and heavy horsepower are coupled with a 9-speed engine that automatically shifts as the vehicle speeds up or slows down. We in Angleton, TX want to get residents in vehicles that are reliable and save them the most money.